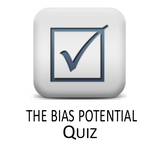 ---
Bias is not the real problem: the dilemma is the stubborn belief that "other" people are biased while you, and those who agree with you, are not 
Bias and Belief are so intimately linked that how we acquire them must be looked at together
---
This quiz, in the table below, follows from the observation that the "degree of a person's biases" is not directly related to the specifics of their beliefs - that is: their lifestyle, religious, political, or other points-of-view.  This is counter to the findings of some social science ideas.  Rather, people's degree of bias is connected more to the way they form their opinions and how they allow their minds to be changed. People also bias their opinions depending upon whether they are alone, in a group, or how an opinion impacts their other beliefs. Our degree of being biased is therefore not primarily based upon the particulars of our biases but are formed by certain specific aspects of our emotions, character, knowledge. circumstances, and disposition. This idea about the nature and degree of our biases is discussed in many other pages in this website including: The Bias Reflexes, Bias & Philosophy, and Bias in Science.
To develop this quiz discussions were carried out with a cross-section of people about a number of different topics. During these discussions the responses to a number of standardized comments and questions were examined for patterns. How the interviewee formed their opinions; and how they changed, or refused to change, their minds, were then arranged according to predefined inferences about the character, circumstances, and disposition traits revealed by the respondent. In detail: after any disputable statement was made by the interviewee, their degree of bias was determined by the specifics of their answer to a formulated follow-up question. The evaluation was made by a comparison of the two related comments using our definition of bias (see the definition below).  Personal questions were also asked to establish the quiz questions. 
DEFINITION OF BIAS USED TO EVALUATE BIAS POTENTIAL
An over-emphasis or exclusive focus on the negative (or positive) aspects of an object with an under-statement or disregard of the positive (or negative) aspects of that object, when compared to other contending objects (specified or implied).  An object being: a cause, an idea, a product, a person, or a specified grouping of people 
This is undoubtedly not an exact method; and it does not purport to be. What it does assert is an improved approach to research where the bias analyst fails to compensate for the fact of their own biases. Too many researchers and commentators - conspicuously those working in the social sciences - simply assume or assert they and their colleagues are without bias; this despite many of the judgments or assumptions they make in their research are extraordinarily biased; which can be established by how they "frame" the particular issues they study. See the page: Bias Flags.
It is important to note that the highlighted bias traits shall not be interpreted as either good or bad; but simply as behaviour and personality differences which, according to our work, has the potential to influence a person's biases. The quiz is for education and entertainment.  Our biases - based upon our memories, beliefs, motives and personal circumstances - are not necessarily defects in themselves - it depends upon their degree, time, place and circumstances. Our biases may partially represent our personality but not our intrinsic worth; because those exact traits will almost certainly be advantageous for other purposes.  
---
Question
Possible Answers
1: Can you fully explain why you 

trust

the things that you believe are correct and true?

Yes, Maybe, Say What! 

2: Have you experienced significant and 

prolonged

 destabilizing events in your life?

No, Maybe, Duh!

 

3: Can you explain the various 

biases

in all the different forms of media, entertainments, and the advertising of products?

 Yes, Maybe, No Way! 

4:  Do you have a

compulsion

for the respect of your peers; or a wish to be cool? 

No, Maybe, Who Doesn't! 

5: Can you explain how & why you

believe

what is right and wrong and how that enables you to judge the behaviour of others?

Yes, Maybe, I never judge! 

6: Can you explain which of your opinions and scientific knowledge you consider to be biased? 

 Yes, Maybe,  What Biases! 

 7: Do you think you can reduce your biases only by being empathetic, kind, fair, & open minded?

No, Maybe, Of Course! 
---
Complete the quiz before reading further or linking to the page on the Quiz Answers 
---
If you do not understand or agree with the basis of this quiz you should link to at least one of the following short pages:  "The Bias Problem", "Bias Aware Thinking", or "Fashionable Bias" which discuss some of the issues and biases that can sneak up on us on a daily basis.
Bias results from allowing one's emotions to accept facts which are generally comfortable, likely selfish, and often simplistic; and to reject facts which are annoying, embarrassing, anomalous, and certainly difficult to accept 
---